HBS Alumni New Venture Competition: Final Four Faceoff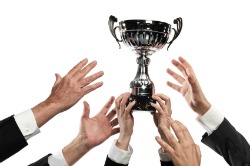 Date: March 28, 2012
Time: 4:30 p.m. - 8:30 p.m.
Place: HBS - Spangler Auditorium, Reception in Williams Room
*FINAL FOUR SELECTED
Don't miss this opportunity to hear the Final Four HBS alumni teams in the New England New Venture Competition. Thirty-five teams have competed. We are now down to the Final Four.
The Final Four will make their 30 minute pitches to a panel of well-known investor & CEO judges. It will be an exciting and fun-filled evening as these teams who have already made it through two prior rounds have their last opportunity to impress the judges and the audience.
What's on the line for these teams? The winning team gets $10K in cash, entry into the HBS Worldwide Venture Competition, fast track into the Mass Challenge venture competition, exposure to the investor community and ongoing counseling from experts in legal, accounting and other issues critical to start-up ventures. You can be sure that all of these teams, each of which has at least one HBS alum on its core team, will be putting their best foot forward.
As of this writing, early-stage venture teams have entered from a variety of fields including:

software
biotechnology
social media
apparel

beverages
food
e-commerce
healthcare


See firsthand how the final four teams deal with critical issues such as:

defining the problem they are solving
building a strong team
finding the money

building a defensible strategy
reaching a target market
scaling the opportunity
Audience members will give direct feedback to the judging panel on who they think is the winning team.
This promises to be a prime networking opportunity for all those who are interested in entrepreneurial activity in the Greater Boston area and throughout New England. See you on the 28th!!
New Venture Contest Judges

Joe Caruso

Jeffrey Glass

Hambleton Lord

Akhil Nigam

Gus Weber


Partner
Bantam Group

Partner
Bain Ventures


Managing Partner
Launchpad Venture Group


Founder and President
MassChallenge

Entrepreneur in Residence
Dog Patch Lab

---
*FINAL FOUR TEAMS
Roberts Wineware, Inc.

Roberts Wineware develops and markets wine glasses and other drinkware which feature its patented Taste Stimulating Technology.

Sanaya

Birchbox for cultural connection and exploration - Participate authentically in your heritage

TrophoMax, LLC

TrophoMax is an agricultural Biotech firm. It is developing patented technology based around a naturally occurring bacteria to improve plant growth and increase yield.

Social Butter

Social Butter allows social network users to aggregate popular social media streams into one place, while at the same time being rewarded for spreading targeted advertising messages through their social network.
Summaries of all 22 business plans are on the HBSAB web site - Click Here.
Registration

*Qualified Contestants in NVP Competition*


Receive TWO Free Tickets to this event by emailing
Sally Millwood at programs@hbsab.org (send names and email addresses)

President's Club: Free

HBSAB Member: $25

Non-member $25

Current HBS Student: $15

Click Here to Register

ARE YOU NEW TO OUR WEBSITE?

Set up a New User Profile on www.hbsab.org top left hand corner - quickly and easily before registering.

72 hours required for refunds
Additional Details
Date:
March 28, 2012
Time:

4:30 - 5:00 PM Registration
5:00 - 7:30 PM Team Presentations & Judging
7:30 – 8:30 PM Reception with Light Dinner, Wine and Beer

Place:
Presentations - Auditorium
Reception - Williams Room
HBS, SPANGLER (Map/Directions)
Parking:
Parking is included, HBS Campus Lot. Enter Batten Way or Gorden Road Entrance - see map
---
NVP Sponsors
[[[fb_share]]] [[[twitter_share]]] [[[linkedin_share]]]
[[[fb_comment]]]