"Win-win" - Negotiating the Employment Relationship for Success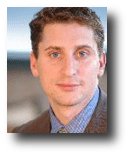 It's a tough economy out there. Many companies are reducing workforces, people are changing jobs, moving to new companies, or looking for their next opportunity. What happens once you find that new opportunity, or when you find that great employee, how do you negotiate the right employment package – equity, profits interests, performance bonuses, salary? How can employers and employees align their interests for mutual success?

Especially interesting for executives and the aspiring executives among our group, please join us to hear Philip Gordon, a seasoned professional in negotiating employment agreements and head of the Gordon Law Group, talk about just how to do that in this economy.

Mr. Gordon routinely negotiates employment relationships and teaches his clients how to do so for themselves and as senior level executives. For instance, do you need to sign an employment agreement or if you are an employer should do put one forward - will it work? What about options or restricted stock agreements; confidentiality, non-compete and non-solicitation agreement; assignment of developments agreement; or some other paperwork?

Mr. Gordon will talk about new employment as well as those evaluating or making new offers at an existing employer and those going through M&A type situations.

In any case, and no matter what side you are on, if you are negotiating an employment relationship, this session is for you.
---